Fuel cards with low fees
There will always be a cost to run fuel cards, but that doesn't mean you can't keep the operating fees low!

If you're looking for a simple solution to fix the headache of paper receipts, the most sensible option will be choosing a card that's tied to one station, but you can also enjoy locked in rates if you're a larger fleet with more card perks.
SPONSORED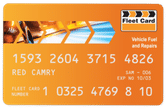 Fleet Card Orange
Flexibility to use across all major fuel stations
Over 6000 non-fuel partners to keep you on the road
Attractive introductory offers which discounts fuel and reduces fees
Average fuel use per month
Use the slider to see the estimated fuel savings for each card.
Overview
The number of locations that accept the card
Locations
The fee per card that's charged to use it
Card fees
Fees when using the card at petrol stations
Transaction fees
The estimated savings calculated by discount x fuel usage
Fuel Discounts
Q&As from customers
What are the best fuel cards to keep the fees low?
Fuel cards which are tied to only one brand will have a lower operating cost. For example, BP have a low card cost of $2.20/m per card (based on 3 or more cards) but you can only use them at BP stations.
With that said, it's worth shopping around if you run a number of vehicles and have high fuel usage – most fuel card providers will try and win your business by securing you a better than advertised rate, however be diligent in asking the right questions such as:
How long the rate lasts for (if they're quoting a promotional period)
If the pump discounts (if any) is applicable to all fuel brands or just one
Whether there are any transaction fees which could offset any discounts
Also consider that fuel companies also use promotional offerings to lock you into the system – while there may not be a contract per say, the effort in moving from one fuel card to another for a larger fleet can be a pain.
Use of terms "popular", "best" and "top" on this website are not product ratings or recommendations and are subject to our general disclaimer. The results you receive from using Fuelcard.report tools respond to your personal data inputs from information available to Fuelcard.report at that time.
General Disclaimer: Fuelcard.report is a free-to-use fuel card comparison website designed to help Australian businesses compare, review, and self-select a fuel card product. Fuelcard.report does not provide any fuel cards. You are not a client of Fuelcard.report. If you decide enquire about a fuel card, you should be aware you will be dealing with our partner fuel card providers and not Fuelcard.report. If you need financial advice you should obtain assistance from a qualified licensed advisor. Ordinarily Fuelcard.report is notified of any changes relevant to fuel cards listed on the website, such as card fees, with updates made in a timely manner. Even so, it is possible that one or more changes may occur without our knowledge. Fuelcard.report will not accept liability for incorrect information. Fuelcard.report does not list every fuel card on the market. Fuelcard.report may receive a commission when fuel cards are enquired or applied for as a result of the outbound links on this site. Make sure you always read the fuel card provider's small print before you apply. Eligibility and credit criteria are at play when you apply for a fuel card.
Enquire to save
Entering these details will help paint a clearer picture on your business fuel needs.
More convenience and flexibility
Control of your fleet fuel purchases
Enquire to save
Entering these details will help paint a clearer picture on your business fuel needs.
More convenience and flexibility
Control of your fleet fuel purchases