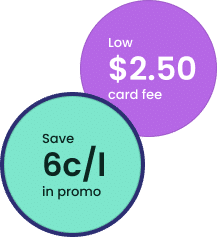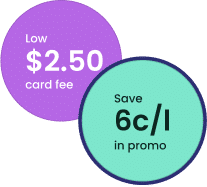 Difficulty getting approved?
Get a fuel card for ABN holders and new businesses
Eligible for new businesses under 12 months
Great options for sole traders that don't use much fuel
Won't require you to pay a security guarantee
Verifying results...
Securing offer...
4 days
until this offer expires
What happens next? A member of Business Fuel Cards will contact you directly to find the best deal. By clicking '
Submit Enquiry
' you also agree to our
Terms and Conditions
and
Privacy Policy
.
Australia's leading fuel cards compared
Save time and money by reducing paper receipts
Save time with ATO approved statements
Q&As from customers
How Does A Fuel Card Work?
Fuel cards let company employees fill up petrol at any petrol station that is in the fuel card provider's network. An individual that has a fuel card doesn't need to pay with cash, a credit or debit card. Instead, the fuel card acts as the payment method and the company will be billed directly.
Do I Get Taxed on a Fuel Card?
If your employees use a fuel card only for work-related travel, they do not get taxed. However, if your workers use a company's fuel card for any kind of private travel, including the journey from home to work, the employee will be obligated to pay tax on this fuel.
What Is the Best Fuel Card for Small Business?
The best fuel card for small business is the one that is tailored to your needs and follows the most cost-effective fuel pricing system. When looking for the best fuel card company, you should pick the one that gives you access to your preferred petrol brand, has reasonable cards fees, and has administrative features that help save you time.
Do Fuel Cards Save Money?
Fuel cards follow different fuel pricing systems that can save you money if you choose the one that suits your company the best. Fuel cards also reduce accounting and administration costs. By connecting fuel cards with GPS tracking, drivers can pick more cost-efficient routes, therefore saving more on fuel, time, and money.
Is Fuel Cheaper with a Fuel Card?
Fuel can be cheaper with fuel cards as most will give you pump price fuel discounts of up to 16c per litre. In addition, you get special offers through loyalty schemes.
How Do I Apply for a Fuel Card?
Getting a business fuel card is a quick and simple process and can be done online. You will be required to submit your business and credit information to the fuel card provider, who will then run a routine credit check. The processing time can vary depending on the provider.