Prepaid Card
← Back to all cards
Prepaid Card
Prepaid cards combine flexibility and affordability by allowing you to load and spend your own money, making them an ideal alternative for managing and paying for your business's fuel expenses.
Average fuel use per month
Use the slider to see the estimated fuel savings for each card.
Overview
The number of locations you can use the card
Locations
The monthly fee for each fuel card
Card fees
The amount you'll save off the pump price
Fuel Discounts
The estimated savings calculated by discount x fuel usage
Savings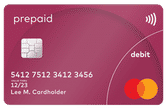 Prepaid Card
Anyone or business can get one
Doesn't need to be linked to a bank account
Can be used anywhere Visa & Mastercard is accepted
The number of locations you can use the card
Locations
6000
Accepted at all locations fuel cards are accepted at
The monthly fee for each fuel card
Card fees
$0.00
There are no monthly card fees
The amount you'll save off the pump price
Fuel Discounts
-
There are no fuel discounts
The estimated savings calculated by discount x fuel usage
Savings
Pros & Cons
What's good?
No bank account required
Can help with budgeting
Anyone can apply
No monthly fees
What's not so good?
Cannot limit to just fuel purchases
No fuel discounts apply
Some providers charge reload fees
Still need to keep receipts
Our review
Our review of the Prepaid Card
Visa and Mastercard are two of the biggest financial services in the world, with both offering prepaid cards for day-to-day spending and fast, easy money loading options. Prepaid cards can be an ideal choice for business owners who want to take charge of their business's fuel expenses, without the some of the obstacles associated with traditional fuel cards (like needing to be in business for 12 months or longer before you apply, high monthly card fees, a limit to where you can use the fuel card and so on).
It's important to note that Mastercard and Visa prepaid cards aren't specifically fuel cards, but rather can be used as an alternative to fuel cards. You can preload and continue to reload the cards for your employees to use when filling up their work vehicle. However, because you can't set limits to where the card can be used, it becomes a matter of trust between you and your employees. As a result, receipts also need to be kept when filling up at fuel stations, which can be a hassle and is one of the main benefits of a fuel card – that all transactions are tied to the card account and paper receipts aren't necessary.
What we do like about prepaid Mastercard and Visa cards is there is no minimum amount of time you need to be in business to apply, and they easily integrate with Google, Apple and Samsung digital wallets.
Now, where it gets tricky is there are a range of Visa and Mastercard prepaid card issuers, and each supplier is unique in its features. For example, some prepaid cards may charge a one-off fee when you buy them, which usually ranges from $5 to $11 per card. Some cards don't charge a fee, or will waive this fee for existing customers. Meanwhile, some prepaid cards charge an initial loading fee, while others charge a fee every time you add more money to the card. Other fees, which depend on the card issuer, may include card replacement fees, cancellation fees, declined transaction fees and ATM withdrawal fees. Meanwhile, how much you can load onto the card at any given time is also dependent on the card issuer. So, it's important you understand all fees and charges related to the card before you apply.
Security features
Like debit and credit cards, Visa Prepaid Cards are protected by Visa's Zero Liability Policy, which means that you won't be held responsible for any fraudulent charges or unauthorised purchases made with your card or account information. Your funds will be held securely at ANZ. Meanwhile, Mastercard has a similar Zero Liability Protection policy in place.
Where can I use my Visa or Mastercard Prepaid Card?
Anywhere that accepts Visa or Mastercard!
How to pay your Visa or Mastercard Prepaid Card
Visa and Mastercard prepaid cards aren't credit cards – they're debit. You need to load cash funds onto the cards to use them.
Card Features/Costs/Fees
Card features depend on the card issuer, so it's important you speak with a sales representative to find out all the important details like:
Initial cost of the card
Replacement card fees
Loading and reloading fees
ATM withdrawal fees
How much you can load on a card at a time
Applying for a Visa or Mastercard prepaid card
Depending on the prepaid card you choose, you can either apply online or in person at participating retailers and banks. How to apply and the process will be different for each card, but below are the most common things you'll need when applying.
Age
Personal detail
Initial load amount
Card activation
PIN
Sign the card
If you apply for a card in person, you should receive your card and be able to use your card straight away. If you apply online, you will need to wait for it to arrive via post.
Customer Support
Customer support will depend on the card issuer. We'd advise not directly calling Visa or Mastercard, as they will simply patch you through to the card issuer you choose.
The basics
Accepted at
Brands

Shell

Coles Express

Ampol

EG Caltex

BP

United

Woolworths

7-Eleven

Mobil

Puma Energy

Metro

Liberty

Freedom Fuels

Westside
Discounts & Fees
Fuel Discounts
There are no fuel discounts
Card Fees
$0.00
There are no monthly card fees
Transaction Fees
$0.00
There are no transaction fees
Similar cards
This card is listed in these comparisons
Use of terms "popular", "best" and "top" on this website are not product ratings or recommendations and are subject to our general disclaimer. The results you receive from using Fuelcard.report tools respond to your personal data inputs from information available to Fuelcard.report at that time.
General Disclaimer: Fuelcard.report is a free-to-use fuel card comparison website designed to help Australian businesses compare, review, and self-select a fuel card product. Fuelcard.report does not provide any fuel cards. You are not a client of Fuelcard.report. If you decide enquire about a fuel card, you should be aware you will be dealing with our partner fuel card providers and not Fuelcard.report. If you need financial advice you should obtain assistance from a qualified licensed advisor. Ordinarily Fuelcard.report is notified of any changes relevant to fuel cards listed on the website, such as card fees, with updates made in a timely manner. Even so, it is possible that one or more changes may occur without our knowledge. Fuelcard.report will not accept liability for incorrect information. Fuelcard.report does not list every fuel card on the market. Fuelcard.report may receive a commission when fuel cards are enquired or applied for as a result of the outbound links on this site. Make sure you always read the fuel card provider's small print before you apply. Eligibility and credit criteria are at play when you apply for a fuel card.
Enquire to save
Entering these details will help paint a clearer picture on your business fuel needs.
More convenience and flexibility
Control of your fleet fuel purchases