Key points
It's worth comparing a range of fuel card options to find the right one for you
Fleet Card is a premium fuel card for businesses who want to use multiple fuel brands
You can use the Fleet Card Orange at over 90% of fuel stations Australia-wide
No transaction or joining fees, but there is a monthly card fee cost
Multiple promotional offers to choose from depending on your business needs
Scan Flybuys cards at Shell or Coles Express to earn points and rewards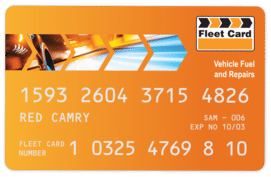 Save up to 4c/l per litre on business fuel purchases
Premium fuel card that gives you the freedom to access fuel stations like BP, Shell, Ampol, Caltex, Woolworths, 7-Eleven, United and many more.
Fuel cards are a great product for businesses who want to take control of their business fuel expenses. From the ability to consolidate all your fuel receipts online, to great fuel savings and rewards and extras, there are countless benefits to signing your business up for a fuel card. Understanding how your business can benefit from a fuel card is easy; choosing the right one is a little tougher. There are countless fuel card providers out there and they all come with their own advantages and disadvantages. In this article, we'll be reviewing the Fleet Card Orange Fuel Card so you can determine if it is the right choice for your business.
Is Fleet Card Orange Worth it for Your Business?
Fleet Card Orange is one of Australia's biggest fuel card providers and sits at the premium end of the scale. It can be used at over 90% of fuel stations across Australia. This includes Woolworth, BP Connect, Mobil, 7 Eleven, Liberty and Ampol fuel stations. You can also fill up at Shell and Coles Express, of which Fleet Card has a partnership with.
Fleet Card also have a partnership with various non-fuel merchants, giving your drivers access to over 6,000 non-fuel merchants, many of which have their own exclusive discounts for Fleet Card Orange account holders, including: Tyrepower, O'Brien, Marshall Batteries, mycar, Bridgestone, Bob Jane, Jax Tyres, Verizon Connect, UltraTune, Beaurepaires, Dunlop Super Dealer, Goodyear Autocare, ABS and Midas.
The benefit of all this is you can rest assured your drivers/employees are fully taken care of while they're on the road – from fuel and oil to snacks and repairs. From a manager's point of view, these benefits can be controlled and monitored on a per card basis. And, because all the fuel cards are charged to one account, it can save you countless administrative hours.
Fleet Card Orange comes with no account management or joining fees, and how much you pay per month will depend on the promotional offer you choose, and how many cards you need. For example, you may be paying 0.99c per card per month (excluding GST) and saving 3c/l at Shell and Coles Express, and 2c/l everywhere else for 6 months. Or, you might pay $1.99 per card per month and saving 4c/l at Shell and Coles and 1c/l everywhere else. There is also a 12 month offer of $2.99 per card per month saving 5c/l at Shell and Coles Express and 1c/l everywhere else. The packages and offerings depend on your business and individual circumstances, which can be discussed with a Fleet Card Orange sales representative at the time of applying.
Premium fuel card
Fleet Card
Coverage
Accepted at over 90% of fuel stations across Australia
Partners
6,000 non-fuel merchants like Tyrepower, O'Brien, Marshall Batteries
Telematics
Integrates with Linxio and Verizon Connect
Pros & Cons
What's good?
Flexibility to use across all major fuel stations
Premium card - one card takes care of almost all vehicle expenses
Over 6000 non-fuel partners to keep you on the road
Earn flybuys points at participating outlets
What's not so good?
Offers vary depending on size of business
Difficult approval process for newer business without credit history
It's hard to find a fuel card that is flexible enough to meet your needs.
The Fleet Card Orange has been designed with user flexibility in mind, giving you the freedom to choose from over 90% of petrol stations across Australia and over 6,000 non-fuel merchants for convenience items such as food and drinks. With exclusive discounts on offers such as car washes, road side assistance, repairs and more – all at your fingertips – there are no more excuses!
The Fleet Card Orange gives you everything you need while on the road so that you can focus on what matters most. Convenience at its finest!
Why Fleet Card Orange Might Not Suit Your Business
While Fleet Card Orange is the right fuel card choice for many businesses, it certainly lends itself as a premium offering to better established fleets. Small businesses may find Fleet Card Orange isn't the right choice as its benefits increase based on the size of your fleet. And, the better you know and understand how much your business spends on fuel each month or year, the better deal you can lock in.
The Fuel Card Orange offering is also better suited to compliment larger and more established fleets who are after a no-fuss fuel card approach and are happy to pay a premium price for peace of mind. Fuel Card Orange can be used at over 90% of fuel stations in Australia, and that premium offering does come with a price. However, with everything taken care for you on the road and off the road, it's certainly worth the extra cost.
If you're a new business without an established credit profile, have a look at the Shell Card.