Key points
Consider where you usually fill up and if you want to stick to one brand of fuel only, or have access to multiple brands
How much does the fuel card cost? Some have monthly card fees, others are transaction based
Consider the pump price discounts. What are the fuel discounts, if any? Are they fixed or based on your individual fuel usage?
Are there rewards and extras? What kind of rewards would best benefit your business?
Fuel cards have plenty of awesome advantages for Australian businesses both big and small. Each fuel card provider comes with its own distinct benefits and drawbacks, and finding the right fit depends on your business needs. Perhaps you're after a fuel card provider that has thousands of locations Australia-wide. Or maybe discounts off the pump price is more important. Perhaps you want low monthly card fees, or maybe rewards and extras are most important to you. Finding the right fuel card for your business can be a bit of a headache, so we've done the hard work for you. Read on to find out our best tips for finding the best fuel card provider for your needs.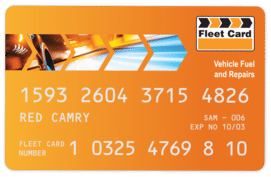 Save up to 4c/l per litre on business fuel purchases
Premium fuel card that gives you the freedom to access fuel stations like BP, Shell, Ampol, Caltex, Woolworths, 7-Eleven, United and many more.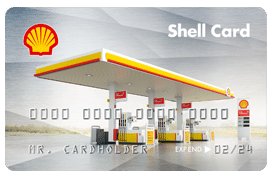 Save 6c per litre on fuel for your business
Great for small businesses and new businesses. You don't need to be in business for over 12 months to apply.
1. Where Can You Fill Up?
When choosing the right fuel card for your business, one of the most important things you can do is determine if you want to stick to one brand, or have the ability to fill up at multiple locations country-wide. Whether you're on the hunt for the cheapest pump price or want peace of mind that your drivers will never be stuck for fuel no matter where they travel, having the ability to use a fuel card at almost any station is definitely ideal. However, this ability often does come with higher monthly card fees and not as good ongoing fuel discounts as brand-loyal fuel cards.
However, if your employees regularly fill up your tank at the same location or always choose the same fuel brand, it might be worthwhile choosing a fuel card from that brand. This way, you'll often get better ongoing pump price discounts and other benefits.
2. How Much Does It Cost?
Most fuel cards have associated fees. All fuel cards have a monthly card fee attached to them, with many also charging for lost or replacement cards. Some fuel card providers also charge transaction fees every time you use the card. Or, some providers charge a transaction fee if you use the fuel card at an out-of-network location. Sometimes these fees offset any savings you make, so it's important you read the fine print carefully to understand how fees work. Also, be wary that most fuel card providers offer attractive signing discounts which end after a certain period – usually six months. Often-times customers are caught out with higher card fees and lower fuel discounts because they didn't realise the fees and discounts only lasted for a short timeframe.
3. Are There Pump Price Discounts?
As mentioned above, many fuel card providers offer very attractive pump price discounts as a joining bonus. However, these discounts rarely last longer than 6 months. Some providers offer attractive pump price discounts to start with, and then after that offer no ongoing discount. Some offer higher discounts to start, and then drop to a set discount after the initial joining period. And then some fuel providers offer ongoing fuel discounts based on your usage – with the more you spend, the more you save. It's important to speak to a salesperson to get all the details and fine print so you're not shocked when your great fuel discounts end after 6 months.
4. Consider Rewards & Extras
Various fuel card providers in Australia offer rewards and extras when you sign up for a fuel card account. Some rewards will be good for your business, while others won't be that useful. Take the time to consider all the rewards and benefits on offer so you can choose the fuel card with the best rewards and extras for you (such as Woolworths' Everyday Rewards or extra discounts at vehicle service brands like Bob Jane or Beaurepaires etc.)
Fuel Card Providers in Australia
Here are some of the major fuel card providers in Australia with some of their key features and benefits. This isn't an exhaustive list, and it does not include all benefits (or disadvantages).
WEX Motorpass
As one of Australia's largest multi-branded fuel card providers, WEX Motorpass has designed its fuel card with convenience in mind. It is one of the most widely accepted fuel cards in Australia, with the ability to use it at 93% of fuel sites countrywide. It does have a high card cost ($5.50 per card, inc GST), and you'll pay a 1.5% transaction fee at Coles Express sites.
Shell Card
With access to over 1,250 sites, the Shell Card Fuel Card is an excellent choice for Australian businesses that already use Shell-branded fuel stations. It's also the ideal card for new businesses as there is no minimum time you need to be in business before applying. With a simple monthly fee structure of $2.50 (inc GST) per card, with the Shell Card your business can save time, reduce costs, and earn great rewards. You can't use AMEX to pay your fuel card bill, however.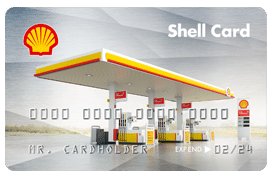 Save 6c per litre on fuel for your business
Great for small businesses and new businesses. You don't need to be in business for over 12 months to apply.
Fleet Card
The Fleet Card sits at the premium end of fuel cards suited to businesses that don't want to be restricted to using one fuel station and packing it full of features. The card has been designed with user flexibility and convenience in mind with the ability to access over 90% of fuel stations Australia wide and over 6,000 non-fuel merchants, many of which have their own exclusive discounts on. The downside to this card is its higher monthly card fees.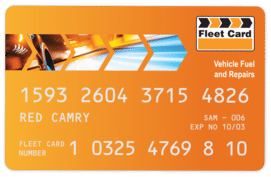 Save up to 4c/l per litre on business fuel purchases
Premium fuel card that gives you the freedom to access fuel stations like BP, Shell, Ampol, Caltex, Woolworths, 7-Eleven, United and many more.
AmpolCard
Previously known as the Caltex StarCard prior to transitioning to the Ampol brand, the AmpolCard is a corporate fuel card for Australian businesses. With a monthly fee of $2.95 per card, the AmpolCard can help you cut your fleet's fuel costs by up to 4 cents per litre on premium Amplify 98 fuels, as well as 2 cents per litre off regular petrol or diesel. With 1,900 service stations across the country, you can easily find an Ampol station near you. The downside to this card is enabling extras added onto the monthly card fees.
BP Plus Fuel Card
For businesses who primarily use BP stations, the BP Plus fuel card offer is hard to go past. While smaller businesses who only need 1-2 cards are charged a more expensive $4.95/m, the card fees drop to $2.20 when 3 or more cards purchased so it's cheaper to have 3 cards than 2 cards (3 cards for $6.60/m vs 2 cards for $9.90). You can earn bigger discounts as well based on volume.
7-Eleven Fuel Pass
The 7-Eleven Fuel Pass is ideal for businesses who want a simple way to keep track of fuel expenses and save on fuel costs. With a $2.50p/m card fee and an excellent introductory offer of 8c/l off the pump price and an ongoing minimum discount of 2c/l, the 7-Eleven Fuel Pass is hard to knock back. It can be used across the entire WEX Motorpass network. There are no transaction fees when using the fuel card at any location, but you only get a fuel discount at 7-Eleven sites.
Pumacard
The Pumacard is a great option as a WEX Motorpass alternative because you still get to access the network including non-fuel services when you need it (at additional costs – aka "Open loop"), but save on card fees and gain fuel discounts when it's used at Puma stations. There is a more restrictive card called Pumacard Direct which limits card usage to only Puma sites where there's discounts and no additional transaction fees. If your routes include Puma stations and you want one of the cheapest fuel cards, Pumacard is a top pick based on the running costs.
At the end of the day, take your time to research the different fuel card options and where possible, speak to a human. By speaking to a sales representative, you're more likely to get the full picture versus relying on the fuel card website alone. And remember the cheapest option is necessarily going to offer the best benefits for your fleet. Shop around until you find the best deal and right fit for your business.