Key points
Access to single or multiple brands?
What are the pump price discounts (if any)?
Integration with fleet management software?
AmpolCard Vs Shell Card & Fleet Card Orange
If you're on the hunt for the right fuel card for your business, there are countless to choose from. This in itself can be confusing and frustrating because while there are several major fuel card providers, only a select few actually offer the best benefits your business really needs. We're here to make choosing the right fuel card for you easy. Here, we're comparing the best alternatives to AmpolCard – Shell Card and Fleet Card Orange.
The Benefits of Shell Card
With access to over 1,250 sites, the Shell Card Fuel Card is an excellent choice for Australian businesses that already use Shell-branded fuel stations. With a card fee of just $2.50 (inc GST) per card, with the Shell Card your business will save time, reduce costs, and earn great rewards. You can also earn Flybuys points every time you fill up at Shell Coles Express and choose from a range of rewards when it's time to redeem them. Not to mention it's a super easy sign-up process, and there's no minimum time in business to apply.
Fuel Discounts
Shell Card has a great introductory offer as well as good ongoing fuel discounts. Currently, you can save 6c/l off fuel after joining (for the first 6 months) and a fixed savings of 2c/l for regular fuel and 4c/l for premium fuel thereafter. Find out more about Shell's promo offer here.
Shell also has an excellent support team who will try to negotiate a deal beyond the initial promotional period, especially if your business spends over $20,000 a month in fuel.
Convenience
You can use the Shell Card Fuel Card at over 1,250 locations Australia wide, including Shell, Coles Express, Liberty and Westside.
Fuels offered include: Shell V-Power, Shell Premium 98, Shell Unleaded 95, Shell Unleaded 91, Shell Diesel Extra and Shell V-Power Diesel.
Fleet Management Software Integration
Shell Card makes it easy for you to extract information about your account from the online portal to then upload to fleet management software, but there is currently no direct integration.
Excited about Shell? Enquire for a Shell Card here.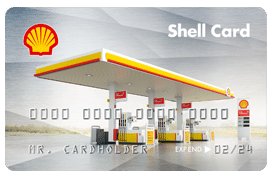 Save 6c per litre on fuel for your business
Great for small businesses and new businesses. You don't need to be in business for over 12 months to apply.
The Benefits Fleet Orange Card
The Fleet Card Orange sits at the premium end of fuel cards suited to businesses that don't want to be restricted to using one fuel station, and it's packed full of features (find out more here). The card is extremely flexible and convenient, giving you access to over 90% of fuel stations Australia wide and over 6,000 non-fuel merchants.
Fuel Discounts
Fuel discounts are one of the great benefits of a company fuel card account, and when it comes to Fleet Card Orange, the more fuel you buy, the better your discounts will be.
There's an excellent sign-up offer of $2.99 per card per month saving 5c/l at Shell and Coles Express, and 1c/l everywhere else. There are 3 other great packages to choose from when first signing your business up for Fleet Card Orange.
The pump discounts you'll receive after the promo period is dependent on your business's fuel spend. What is clear is that at the end of the day, the more fuel you buy, the better your ongoing fuel/card discounts will be.
Convenience
One of the major benefits of Fleet Card Orange is it's serious convenience. You can purchase fuel at any Woolworth, BP Connect, Mobil, 7 Eleven, Liberty and Ampol fuel station and pay using your Fleet Card. You can also fill up at Shell and Coles Express, of which Fleet Card has a partnership with. Fleet Card is accepted at over 6,000 fuel stations across the country.
Fleet Management Software Integration
Linxio and Verizon both partner with Fleet Card and allow you the ability to integrate with the Linxio and Verizon software platform, allowing you to keep a centralised source for all fleet data. This is handy if you have a growing fleet and want to keep track of all your data at all times.
Enquire about a Fleet Card Orange fuel card today.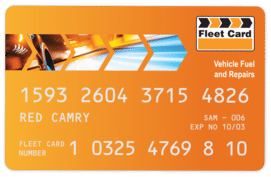 Save up to 4c/l per litre on business fuel purchases
Premium fuel card that gives you the freedom to access fuel stations like BP, Shell, Ampol, Caltex, Woolworths, 7-Eleven, United and many more.
Why Choose AmpolCard?
The AmpolCard was previously known as the Caltex StarCard prior to transitioning to the Ampol brand. With a monthly fee of $2.95 per card, the AmpolCard can help you cut your fleet's fuel costs by up to 4 cents per litre on premium Amplify 98 fuels, as well as 2 cents per litre off regular petrol or diesel. Your business can also receive 10% off packaged engine oils and 5% off convenience items at certain Ampol stations.
With 1,900 service stations across the country (including Woolworths Metro and Foodary outlets, in addition to 240 truck stops) there are many Ampol stations to choose from. You are able to use the AmpolCard at Caltex Caltex locations that haven't transitioned to the Ampol brand yet.
Ampol also offers AmpolCash, which is a prepaid fuel card that's similar to a gift card. AmpolCash is available to buy from participating Ampol service stations. You can also order AmpolCash online as either the Classic (physical) card or as a digital card that can be instantly downloaded to your smartphone for cardless payments.
While the AmpolCard is an all-round good corporate fuel card, it is best suited to businesses who already exclusively use Ampol stations.
1* Use of terms "popular", "best" and "top" on this website are not product ratings or recommendations and are subject to our general disclaimer.